★High-quality LCD display: excellent process design, high filling accuracy, precise filling volume adjustment.

★Intelligent system control: intelligent control to achieve uniform, micro-repetitive liquid filling method;

★High-quality stainless steel material: imported monolithic control, stainless steel body, wear-resistant, in line with GMP requirements.

★Power-off memory and anti-drip: let you operate with more confidence. Automatic heat dissipation design: automatic heat dissipation protection, safer, longer lasting, easy to operate, large flow, flow rate up to 17L / Min.

★This machine can be used for alcoholic beverages, carbonated drinks, hair care products, fresh milk, mineral water, purified water, oil, oral liquid, juice, liquid alcohol, cosmetics, syrup, detergent, washing products, skin care product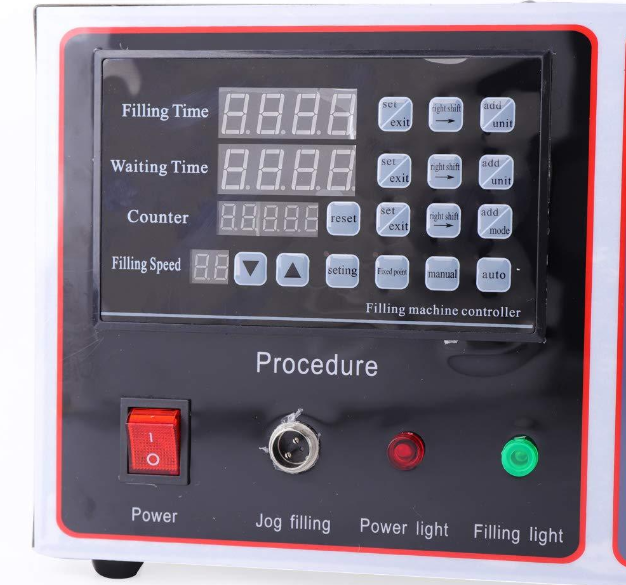 Control Panel
LCD display combined with single chip microcomputer control

Makes the operation more intuitive and the maintenance more convenient.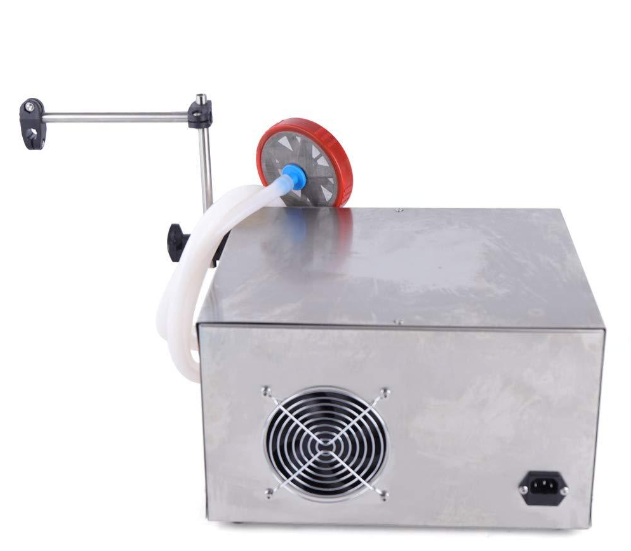 High-Quality
Mirror

 stainless steel body, imported materials

Fine workmanship, Ingenuity make
Specifications:
– Type: Liquid Filling Machine
– Drive type: electric
– Fill mode: automatic or manual switching
– Shell material: mirror stainless steel
– Frequency: 60Hz
– Voltage: 110V
– Power: 180W
– Single pump maximum flow rate: 17L / min
– Filling range: 5ml-17000ml
– Repeat error: ≤0.5%
– Working mode: power-on delay, data program setting
– Delay range: 0.01s-999.9s
– Counting range: 1-99999 times
– Display mode: upper row filling time display, middle intermittent time display, lower row counting display
– Power outage memory: yes
– Prevent dripping: Yes
– Control method: manual / automatic
– Machine size: 36C36X22cm
– Packing size: 47X44X30cm
– Weight: 12kg
Features:
– High-quality LCD display: excellent process design, high filling accuracy, precise filling volume adjustment.
– Intelligent system control: intelligent control to achieve uniform, micro-repetitive liquid filling method;
– High-quality stainless steel material: imported monolithic control, stainless steel body, wear-resistant, in line with GMP requirements.
– Power-off memory and anti-drip: let you operate with more confidence. Automatic heat dissipation design: automatic heat dissipation protection, safer, longer lasting, easy to operate, large flow, flow rate up to 17L / Min.
– This machine can be used for alcoholic beverages, carbonated drinks, hair care products, fresh milk, mineral water, purified water, oil, oral liquid, juice, liquid alcohol, cosmetics, syrup, detergent, washing products, skin care products.
The package includes:
– 1X liquid filling machine
– 1X User Manual