【Premium Material】— Material: Aluminium alloy. Premium quality ratchet style bow press, portable and durable to use.
【Ratchet-Loc Press Volume】— Volume: 30.0×30.0 cmx10.0 cm(One piece is 22x10x6cm, the other piece is 25x10x6cm); Rope length: 1.3m; Weight: 1.3kg.
【Easy To Use】— Compact and easy to use, suitable for both indoor and outdoor.
【Save Time】— Saves a lot of time with not having to go to a pro shop, crank the ratchet strap to press the bow.
【Change Bowstrings】— You can changed your bowstring and tied in a peep by using it.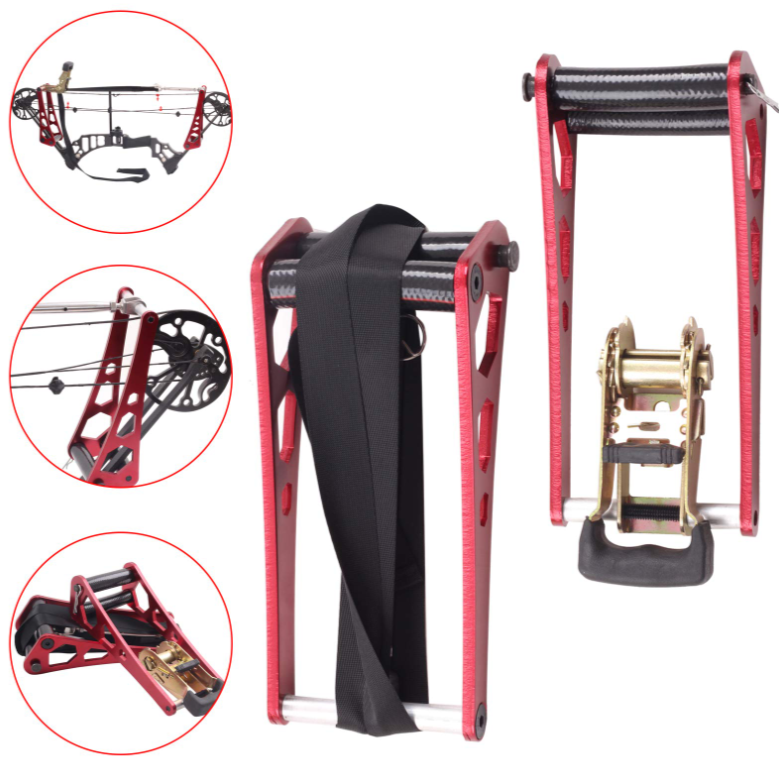 Product Advantages
First of all, you can easily compress the composite bow and remove the strings and cables. When you expand to the composite bow, you can also disassemble the composite bow. In addition, it also allows adding string silencers, peepers and even changing strings.
Wide Application
The archery compound bow press is a great accessory for archery lovers, which suitable for all kinds of compound bows and indoor or outdoor environment.
Specifications:
Material: Aluminium alloy
Color: red
Product volume: 30.0 cmx30.0 cmx10.0 cm(One piece is 22x10x6cm, the other piece is 25x10x6cm)
Rope length: 1.3m
Weight: 1.3kg

Features:
1. Premium quality ratchet style bow press, portable and durable to use.
2. You can changed your bowstring and tied in a peep by using it.
3. Saves a lot of time with not having to go to a pro shop, crank the ratchet strap to press the bow.
4. Compact and easy to use, suitable for both indoor and outdoor.

Package Includes:
1 Set Ratchet-Loc Press (2 Pieces)